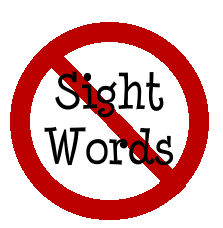 There has been quite a bit of talk around here lately about what is or what is not a curse word. We didn't initiate this in any way, it must just be something that kids are naturally inquisitive about. I remember doing the same thing as a kid.
One of the borderline words in our house is the word gosh. I just don't like how close it sounds to taking God's name in vain, and there are plenty of good alternatives, so we discourage the kids from saying it. Well, last night, someone said it, (the guilty party shall remain nameless) and S~ heard it.
She started getting all worked up about it, and trying to find the right thing to say, she started wagging her finger at me...when she finally got it out, this is what she said...
"MAMA!!! That's a sight word!!!"